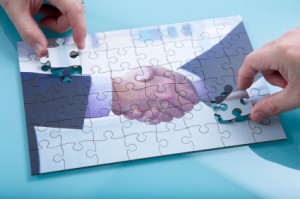 The chief executive officers of American Airlines and US Airways, Tom Horton and Doug Parker, distributed a May 6, 2013 communiqué to the American and US Airways teams.
They said:  "At this point, 29 integration planning teams and several cross-functional task forces are at work to define the manner in which the two companies will combine our commercial, customer service, operations, and corporate functions after the merger closes."
They are figuring out: "how we bring our more than 100,000 employees together as one team. One of our priorities is putting together the strongest possible leadership team for our combined airline."
In addition, they said: "We also remain committed to communicating frequently and transparently."
They will have a very big challenge accomplishing their stated goals:
integrating people,
functioning as one team,
having the strongest leadership, and
having impactful communications
…without understanding PRINT, and with it, Unconscious Motivators, Shadow Behavior, and Triggers.
There are serious blocks to accomplishing their goals.
Not only do they have to integrate two different corporate cultures, they must also integrate two different PRINT cultures – and if they don't even know that PRINT cultures exist, they will not be able to address that major issue.
Furthermore, a team has people – and people have different PRINTS, i.e. different Unconscious Motivators that determine how they think, feel, and behave.
Everyone on a team needs to understand
and respect these differences.
These different "frequencies" – and communicate with each other not just "frequently and transparently," but communicating on the different PRINT frequencies to really connect with and motivate people.
Each PRINT has a range of behaviors from positive (Best Self) to negative (Shadow), and studies have shown that Shadow behavior is a destructive force.
It will undermine teamwork, decision-making, project implementation, motivation, and communication.
Shadow behavior will undermine every aspect of a merger between American Airlines and US Airways.
I believe that without the leadership actively working to reduce Shadow Behavior, an opportunity for the most successful integration is lost.
The above communiqué is from an article by Terry Maxon in the Dallas News, May 6, 2013 – "American Airlines, US Airways to name post-merger leadership within weeks"