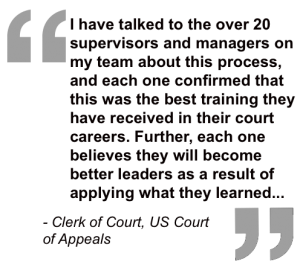 PRINT® serves as the next step for government organizations that use personality or behavioral instruments/systems because it builds on an existing appreciation for style and communication differences.
For government organizations that haven't used personality or behavioral instruments/systems, PRINT provides a comprehensive understanding of your team's strengths, weaknesses, decision making, communication, and personal styles and preferences.
Regardless of your organization's situation, foundation for improvement is based on two goals:
Understand others at a profound level to engage more successfully.
Mitigate and eliminate unproductive, automatic behaviors to elevate performance levels.
As you know, unproductive behaviors can adversely impact every decision, interaction and task. And, unfortunately, all people exhibit these behaviors to some degree.
PRINT delivers access to practical tools and techniques for working with these existing behaviors, while achieving growth on a personal and interpersonal level. Application extends to many different objectives in government organizations, such as:
Recruiting and retaining excellent talent,
Developing a top-flight management team,
Creating highly competent leaders,
Building high-performance teams, and
Generating an extremely productive workforce.