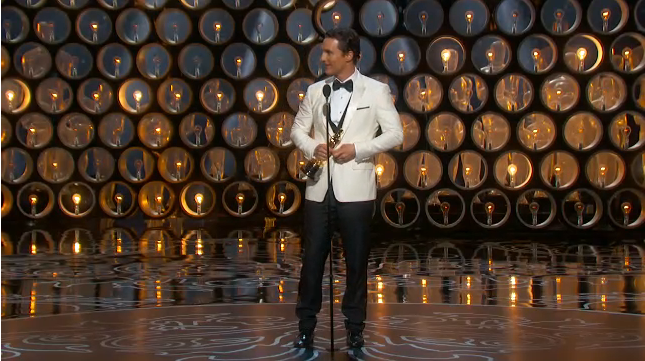 After winning the Best Actor Academy Award for his role as Ron Woodroof in Dallas Buyer's Club, then thanking the Academy, his director, and costars/cast members, Matthew McConaughey's acceptance speech was pretty unconventional.
He said:
"There's a few things, about three things to my account that I need each day. One of them is something to look up to, another is something to look forward to, and another is someone to chase." 
He looks up to God, he looks forward to being with his family, and the person he chases is himself, 10 years into the future.
I would like to focus on this third item. Here's exactly what he said:
"And to my hero. That's who I chase. Now, when I was 15 years old, I had a very important person in my life come to me and say, 'who's your hero?' And I said, 'I don't know, I gotta think about that. Give me a couple of weeks.' I come back two weeks later, this person comes up and says, 'who's your hero?' I said, 'I thought about it. You know who it is? It's me in 10 years.' So, I turned 25. Ten years later, that same person comes to me and says, 'So, are you a hero?' And I was like, 'not even close. No, no, no.' She said, 'Why?' I said, 'Because my hero's me at 35.'
"So you see – every day, every week, every month, and every year of my life, my hero's always 10 years away. I'm never gonna be my hero. I'm not gonna attain that. I know I'm not, and that's just fine with me because that keeps me with somebody to keep on chasing." 
To me, he is clearly talking about being the Best Self he can possibly be, and reducing his Shadow (the opposite of Best Self) as much as he can. Best Self is you at your best – being tuned in to how you act and what you say. It's unleashing your full potential, your passion, your power, your productivity. It's living the best life you can live, and the goal is to keep working on this as much as you can – day by day.
This goal of a Best Self life, I believe, is potentially the most noble and worthwhile goal a person can have, as all other positive things spring from this. When acting from Best Self, you always do what's best for others – as well as what is best for you. Not just for others, and not just for you, but an ideal balance between the two.
However, "chasing" your Best Self is not easy. It takes commitment and consciousnes.- a lot of it. Wouldn't it be great if there was a roadmap to help you on your Best Self journey? Well, there is!
If you know WHY you act they way you do (Best Self or Shadow), if you know WHY you think the way you do, WHY you feel the way you do, and WHY you say what you say, wouldn't that make it a whole lot easier to choose more Best Self (and less Shadow) behaviors and thoughts?
This is called The WHY of YOU, and is based on knowing your PRINT®. Your PRINT® reveals your Unconscious Motivators, which are the basis for your Best Self and Shadow. PRINT® also tells you your Triggers – those things people say or do, or events that happen that "attack" your Unconscious Motivators and push you into Shadow.
Knowing your Triggers (and being mindful and aware of them) enables you to prevent being Triggered into Shadow, and recover quickly when you are Triggered into Shadow.
The less Shadow, the more Best Self. With The WHY of YOU, and other tools to help you "chase" your Best Self, you get closer to living your life to the fullest!